Welcome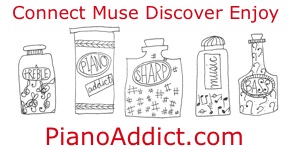 Piano Addict is the place for all piano enthusiasts: students & teachers, avocational & professional, classical, jazz, new age, modclass, & more. Connect with other piano addicts & check out links to other great piano, music, and music education sites. Muse, discover, and catch up on pedagogy, news, reviews, and this n' that.
Piano Addict was born as Studio Black 'n White in 2006 as a place for the students from 3 studio locations to connect with and learn from each other. The site soon outgrew its format and went public as Piano Addict in 2008. In 2010, Piano Addict moved to WordPress and has continued to evolve into the site you see today which is read by piano lovers worldwide. You can view the PA ClustrMap to see individual country counts by clicking on the ClustrMap in the left sidebar on any page (scroll down to see the entire content).
Many thanks to you all for your continued support and kind words of encouragement—and thanks for reading. Want to chime in on a post topic? Have a great idea for a post or a new feature? Got a question? Just want to say hello? Comments and suggestions are always gratefully accepted. Just use the Contact tab at the top of any page or click on Leave a Comment on a post. Oh, and don't forget to check out Piano Addict on Facebook and Twitter!
Enjoy!
Piano Addict is where pianists of all walks converge. This blog is a wonderful resource for piano teachers as well as piano students. No matter what style of music you're into, there's something for you on Piano Addict!   The ZOEN Blog