The Musical Adjectives Project
Jumpstart Your Creativity !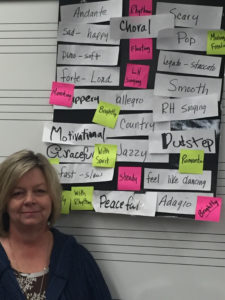 Descriptive words, characters, glossaries, translators, and images to aid in understanding, describing, and communicating the emotions and character within pieces. This free resource is perfect for all levels of experience, genres, and teaching situations. The Musical Adjectives Project is also a wonderful tool for integrating the arts and vocabulary in classrooms and homeschool.
Founded in 2010 by Gail Fischler
From Alison Mathews: I've posted before about Gail Fischler's wonderful Musical Adjectives Project but wanted to highlight it again as I had such a lovely response from a pupil this week. I'd asked Ben to choose adjectives that he felt characterised his Trinity Initial exam piece "Ready to Go" by Ben Crosland. What he chose were a real surprise to me! It proved to be great way to talk about how to actually communicate these words in his playing and to hear this rather shy pupil express himself. I also realised that I shouldn't assume my pupils hear things the way I do!