Welcome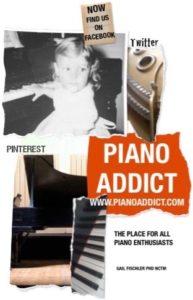 Piano Addict is the place for all piano enthusiasts: students & teachers, avocational & professional, classical, jazz, new age, & more.  Connect with other piano addicts, muse, discover, and catch up on pedagogy, news, reviews, and this n' that.  Be sure to check out our newest columns, The Enterprising Pianist, The Adaptable Pianist, and Piano Makers' Corner.
Piano Addict was born as Studio Black'nWhite in 2006. It was designed to be a place that my students, taught at 3 different studio locations in Arizona, could connect with and learn from each other.
The site soon outgrew its format and went public as Piano Addict in 2008. In 2010, Piano Addict moved to WordPress and has continued to evolve into the site you see today which is read by piano lovers worldwide. Friend, like, follow, tweet, pin and more via the Piano Addict social media accounts. You can find links to the Piano Addict feeds in the right hand column of every Piano Addict page.
Many thanks to you all for your continued support and kind words of encouragement—and thanks for reading. Want to chime in on a post topic? Have a great idea for a post or a new feature? Got a question? Just want to say hello? Comments and suggestions are always gratefully accepted. Just click the comment link at the bottom of any post and tell us what you think or shoot us a message via PA Facebook or Twitter accounts.
Enjoy!