Playing With Wolfgang: Gershwin, Lecuona, & Messiaen Meet Artistic Process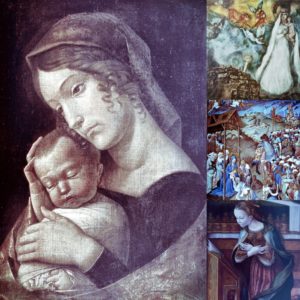 "I don't see why you chose that artwork," she said. "There is plenty of 20th Century art that would match these pieces and the time they were written much better."
Uhhh…
My recital had included 5 pieces from Messiaen's 20 Contemplations of the Infant Jesus. I had chosen a piece of art to project for each. (You can view the artwork here) I absolutely loved the contrast of Messiaen with centuries old art—also the way it expressed the eternality of the Christmas story. The only contemporary work I chose was a Chagall for my final selection, I Sleep But My Heart Watches.
The 5 paintings were, to me, a window to help the listener connect to my personal views of these pieces. I was putting my musical heart on my sleeve and that thing about the artwork rankles even today as I type this post.
I have blogged about this time in my musical life before in How Messiaen Taught me the Law of Opposites. Today, however, I would like to take this someplace quite different.
Last weekend, we went to hear Cuban pianist Nachito Herrera play a solo concert at The Musical Instrument Museum in Phoenix. Actually, he told me afterward that they were recording the concert and if all went well it would become his first solo album.
The title for the evening was Gershwin Meets Lecuona. There were no printed programs.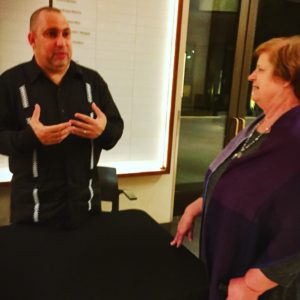 Instead, Nachito talked to us about his inspiration and hopes for each selection, and how, in each piece, he would begin with the original, improvise on it, and then return again to the original. He told us how he wanted to illustrate the similarities between these seemingly opposite composers—how he wished to highlight the cultural, rhythmic, harmonic, or melodic elements for each.
Along the way, we also met Bach, Liberace, and Rachmaninoff, plus a few of Nachito's mentors, and his wife. We were given a priceless view of culture, artistic process and integrity. We were given a window into this artist's mind, perhaps even his soul. It was a joyful evening.
Of course, everyone there had their own experience. I know from conversations afterward that many were close to my own.
But, probably there was someone who wondered why Nachito chose a Bach Minuet to go with that particular Gershwin and thought that there were other pieces that would have matched the piece and the time they were written much better.
And, that is ok. Each of us, artist or listener, is on our own journey. If we are challenged and confused along the way that is exactly and precisely the point.