Piano Maker's Corner: A New Opus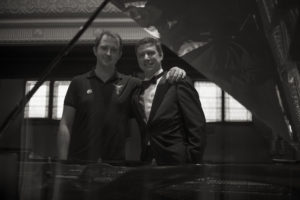 There's really nothing like a daunting and risky challenge to get the creative juices flowing and last September an unexpected opportunity provided just that. Polo Piatti – Musical Director at the Opus Theatre, Hastings – had been given a generous budget for a new concert piano, to grace his beautiful venue.  As a long-time supporter and fan of Phoenix Pianos there could be little doubt of his first choice of where to source the perfect instrument.  Phoenix Pianos have successfully led the way in challenging piano design orthodoxy, with patented carbon fibre soundboards, use of carbon composite actions, unique unique bridge agraffe system.
Could we build Polo a state-of-the-art Phoenix piano within budget?  Indeed we could, but the route to achieving this was itself a little unconventional, to say the least.  The starting point was to acquire a historic Bluthner concert grand.  The instrument would then be completely rebuilt – not just "refinished" – with a carbon fibre soundboard, carbon composite action, and new strings and hammers.  The acoustic case would be stripped back to bare wood and finished to look like a brand new instrument.  Moreover, this would be the first ever 9 ft concert piano to contain a carbon fibre board, and that in itself was a step into the unknown.  How would it sound?
Suffice to say, the result is a stunning instrument, with an enormous tonal palette.  The name Phoenix Opus is testimony to the proud collaboration between the parties involved. Buoyed by this, the Phoenix team and Polo decided to launch the new piano in spectacular fashion, calling upon two of the world's great pianists to put the Phoenix Opus through its paces.
In the following section, Doug Chapman – head technician at Phoenix Pianos – and James Bacon – media technician for Phoenix – discuss the challenges behind such an instrument, and behind the launching, filming and recording of the inaugural concert.
DC: They said I was mad to do it. It'll be a complete flop, they said.
Organising not one, but two concerts on the same day, with two pianists that are not yet super-famous, in a new venue that hadn't had time to establish itself, on a concert grand barely 4 weeks old? And film the whole thing?
I agree, it was a mad idea. Let's not forget I'm also not an event organiser or promoter, just a piano technician.  The odds were firmly stacked against us.
Despite this gloomy outlook, I was determined to go ahead. It was a huge opportunity to let the world know that there was a new kid in town, as concert grand pianos go. I knew the Phoenix Opus concert grand was going to be phenomenal.  I had confidence in the two pianists I had hand picked for the event.  They were both amazing musicians, more than capable of showing off the qualities of this unique piano.
I also knew the concert location, the new Opus Theatre, was a beautiful venue with acoustics that could match or even better the top concert halls in London.  Polo Piatti, the Argentinian concert pianist and composer who runs the venue, was nervous but willing to go ahead with this event, and had a small team to help on the day.   It was make or break for this fledgling concert hall.
I didn't just want the quiet seaside town of Hastings, in East Sussex to experience this piano, I wanted the whole world to see it and hear it. Luckily for Phoenix, James Bacon is one of the best in the business when it comes to video and audio recording, especially when it comes to pianos.  It would be a challenge, but if anyone could do the job, it was him.
We'd given ourselves a ridiculously small time frame to organise, promote and stage this double-concert.  But this wasn't the biggest issue.
We hadn't even finished piano yet.
JB: No matter how many years of experience I have in this industry, recording a live concert hundreds of miles away from home always gives me the butterflies, as well as "good" excitement.  What flashes through my mind is getting to the venue, setting everything up, and realising that I forgot a thunderbolt cable, or a software licence dongle, or a power supply for a laptop.  I try to imagine the kinds of words that could ever constitute a credible apology for such oversights, but never quite can.
Eventually there needs to be some kind of rational philosophy to such fretting: nothing will happen in this life unless we plan it to happen, and methodically carry through that plan.
This concert is particularly special.  Everything about it is exciting.  I have worked with Anton Lyakhovsky and Doug many times before and we are great friends, so that is reassuring, but everything else is new.  How will this new carbon fibre piano sound?  What are the venue acoustics like?  What room is there for equipment?  Will there be electrical interference that damages the audio signal?  Will the pianists like the piano?  Will there be a good audience?  All these questions will be answered at the end of a long journey, and with precious little time to react, once in situ.
DC: The piano arrived in a truck at the venue three weeks before the concert, fresh from the finishing workshop. Martin, the man responsible for all of our polyester and removal work, had phoned me a few days before the move to check on how easy the route through the front door was.  "Easy. 3 steps and you're in".  This simple move required only 3 or 4 men. What I had forgot was that after these "simple" 3 steps was a sharp turn followed immediately by another 3 steps.  The move had suddenly changed from simple to horrific in one "simple" oversight.  Martin arrived on the day and, as one can imagine, was not pleased.
I shall not bore you with the details, but let's say that 3 hours of unbelievable moving skill later, the piano was in place.  It's safe to say that there were moments where I, and probably everyone else thought, "Yep, this is how I'm going to die, with a one tonne Phoenix squashing me flat."  We all survived.  Including (and probably most importantly) the piano.
It sat on the stage, still in protective cellophane, like an enormous present ready to be unwrapped.  Slowly we peeled back the plastic to reveal the gleaming black finish and shining gold Phoenix birds.  It was an absolute beauty.
Since the piano had come directly from the polyester shop, there was still plenty of work to do on site to get this concert grand up to our usual standard.  We have a 48 point test which every piano must pass before it leaves our workshops.  These were special circumstances – the piano was already in place to give it time to settle in before the concerts.  It was time for me to earn my keep.
The action had only had a rough fit, as with all pianos, and needed to be fine regulated, voiced and tuned.  I went through the check list, point by point.  Slowly but surely, what began to emerge was clearly something very special indeed.  The power, the clarity of tone, the sustain, the responsiveness – they were all absolutely remarkable. That's when it hit me:
This really was the world's most technologically advanced concert grand.  And now it was ready to be unveiled.
JB: We travel down the afternoon before the concert, and stay in an Air B&B.  It's lovely – a 17th century house with not a right angle in sight – and we are very well looked after.  Everything is comfortable, but I still don't sleep easily before events like this, because the equipment inventory and technical concerns are going around in my mind, on loop.  I contemplate that somehow – between this moment, and arriving back home the day after the concert – my computer must capture pristine, undistorted, well-miked-up audio, and my video cards must contain good video.  It is a live concert – not a studio recording – so there is no take 2 for anyone, at any stage.  That's why I don't sleep well, and why I wake up at 6 am.
Concert day turns out beautifully sunny, and as we approach Hastings, I catch my first glimpse of the sea, flickering behind distant rooftops.  I have not seen this expanse of water for a quarter of a century, and it brings back childhood memories of family holidays in Swanage and Eastbourne.  I relish that nostalgia for a moment.
We park in a loading bay outside the venue… I dash in to take a look.  Wow – this place is gorgeous !  The piano sits on the stage, absolutely gleaming, and its elegant lines are breathtaking.  I try the piano, and immediately love it.  It is warm, clear, crisp, and the action is highly responsive.  The venue makes the sound glow.
There are, however, some technical issues, and Doug and I start to discuss how to fix them, coffees in hand.