Artist Portrait: Charles Szczepanek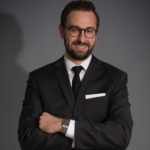 Meet pianist Charles Szczepanek– performer, recording artist, artistic director, composer, church musician, and producer. You have probably watched his awesome Star Trek and other transcriptions on YouTube. As many hats as he wears, I'm very grateful he took the time to do this interview. We chatted via email about his musical growing up, creating color and depth acoustically, his Mom, a hobby that turned into a company, and more.
I asked Charles if he is ever surprised to find himself wearing such an assortment of hats and he said, "As a person who stays engaged with life, is always wanting to learn about new things, and is always looking forward to the next project, it's understandable that a slow and steady evolution would lead to where I am today."
Please tell us a bit about your musical growing up. Have you always improvised and composed?
Growing up, there was never much classical music played in my household. When I finished my practicing, I gravitated toward playing the piano part for pop music by the Beatles, Elton John, Billy Joel and others.
One day my mother said, "Can't you make it sound a little more like the song?" She pointed out the piano part didn't include the melody, an important component in making a song recognizable! I said something indignant like, "But it's on another line; I can't read three lines!" With a little more coaxing, she got me reading the three lines together and was happy.
That exploration of what was beyond the piano part had lasting effects. I started looking at the guitar chords, learning how to approximate those sounds on the keyboard and add it to the vocal and piano lines. I tried to fill-in textures and notes missing from the published arrangement. By the time I started high school, I was well aware that published pop music transcriptions were approximations at best. I was also keenly aware that music wasn't the ink on the page; it was the sounds we hear in the air around us.
My mother's simple question opened the door to arranging, which in turn led to discoveries in composition and improvisation. I was writing original music by the time I was 10, some inspired by pop music and some inspired by classical music.
During my undergraduate studies, I had the fortune of working closely with a living composer, Paul Aurandt, on one of his large, romantic works. Those coachings solidified what I had discovered about pop music and helped apply those concepts to classical. Mainly: the notes on the page are at best an approximation of the music any composer intends.
Gaining a glimpse of the composer's mind has been incredibly insightful for my interpretations and understanding of the classical repertoire. During a lesson in my undergraduate studies a teacher remarked, "You play the piece as if you wrote it." I can't think of a better compliment!
Who were and are your greatest mentors? Why?
From ages 12 to 17 I studied with Dr. Daniel Paul Horn at the Wheaton College Conservatory of Music and from 18 to 23 I studied with Professor Robert Hamilton at Arizona State University. Dr. Horn showed me that the study of music is a lifelong endeavor. You can enjoy what you've accomplished, but the growing process never ceases. Professor Hamilton instilled in me a great attention to detail. I remember working with him on a Mozart sonata. We spent 45 minutes discovering every conceivable way of playing the first bar, not moving further until every option was found!
Paul Aurandt, better known as Paul Harvey Jr., writer and creator of The Rest of the Story radio show, has become a friend. When we first met, he described my playing as if I were looking through a thin piece of paper behind which was my desired musical outcome. "Why are you putting the paper there?" he asked. "Tear through it! " More broadly, he made me believe in my playing and interpretations more than anyone. He reminds me to trust my intuition and go for it.
Please talk about your newest album, Keys to the Cinema.
I developed the concept for Keys to the Cinema in late 2013, after hearing John Williams conduct the Phoenix Symphony. The evening was magical because of the enthusiastic reactions of the audience. Each piece was known and loved.
After letting the concept simmer, I began arranging the music in early 2016. All of my arrangements are composed by ear, without studying the written orchestral score. Liszt was a master transcriber of large scores, and his style of arranging is a strong influence in how I work and think about orchestral colors on the piano.
Your transcriptions are great fun for the listener. How do you achieve such a balance between a broad range of pianistic sound and going way over the top?
Today's classical crossover world features a lot of musicians who rely on layering in the studio or live performance with a loop pedal to achieve build and dynamic contrast in their music. At the other extreme are musicians who squeeze as many notes as possible into a bar, and out of their fingers, at the detriment of musicality and line. I might one day experiment with layering sounds in the studio, but I'll never write difficult passages for their own sake.
When I'm writing a technically challenging passage I need to give myself some musical reasons why it's important. If "it sounds cool" is the only thing I come up with, the idea is scrapped. On Keys to the Cinema, my overarching intention was to create piano transcriptions that come as close as possible to recreating the color, depth, and dynamic of the original orchestration. I write pianistic flourishes when they aid in conveying those messages. That helps me give priority to the ups and downs of emotion the music generates, which translates into balance.
Do you have a favorite transcription(s)? How did it (they) come about?
From purely a technical point of view, I'm most proud of the Suite from Star Trek. It pushes the limit of human hands and fingers but always for the sake of creating colors and textures that represent the orchestration. The first movement is full of measures that need extreme treatment to achieve their impact. There are 32nd notes, and faster, right hand arpeggios that swell to recreate simple string orchestra writing. There are bars where the right hand is asked to play eighth notes that skip two octaves: the lower octave representing the strings, the upper octave representing bells, and so each needs different articulations. In another section, both hands work together playing very fast ascending octave triplets. The harmonies outlined represent the strings and horns while the rhythms represent a persistent and militaristic snare drum.
Musically, the Theme from Schindler's List and my medley of Pure Imagination/Somewhere Over the Rainbow are my favorites. The form of Schindler's List is AABA. With three A sections, the difficulty in arranging was making them different enough without losing sight of the emotions the film evokes. Pure Imagination features a lot of original writing. For example, the opening statement and the transition into Somewhere Over the Rainbow is mine but is highly influenced by the shape and rhythms within the original composition.
How do you manage the many demands of being a pianist, collaborator, arranger, artistic director, producer, and more?
Apple Calendar is my close friend. Wearing so many hats keeps me in a fresh place as I approach my different work. I dedicate large blocks of time toward one endeavor at a time, but not so much that any become mundane. Many days I'll spend a morning tackling one type of work, an afternoon tackling another, and an evening tackling a third. The following day, I probably won't have time to revisit any of those three areas because there will be two or three different ones that need attention.
What drew you into production and engineering?
Initially it was just a hobby. I recorded two unreleased albums of classical music when I was in my teens, and I also recorded songs for friends. Upon entering college, I had an awful experience working with a "professional" studio. I spent hours sitting at the piano, waiting for the engineer to figure out what he was doing before we could move on to the next take.
Within a week, I decided to start my own production company, Winding Road Studios. I enjoy producing the most. On classical music, it can entail reading the score along with the performer or ensemble and helping coach them through the recording: Is their intention coming through the microphones, where you can't see their body language? If they are nervous, how can I calm them? When they are tired, how can I encourage them to perform a fresh and vibrant take? With pop music, producing can be as much as being a co-songwriter, taking equal responsibility for lyric, melody and harmony decisions, as well as the creation of textures to support the song.
You are a person who integrates their religious beliefs wholly into everything that you do and you don't mind discussing it either. Of course, many musicians have done the same, Bach, Liszt, and Hough to name a few. In literature, authors have described music as Rite 3 and listed among the saints such people such as Saint Sebastian and Saint Ludwig. Would you talk a bit about this in regard to your musical life?
Some of the most musically fulfilling moments of my life have been at Mass or during prayer services: times when I can really sense how people are being moved in their thoughts and in their prayer by what I'm playing. There are few things in the world that can bring us to tears without our expecting it, and music is one of them. Music rides the currents of spirit in the air around us and can enter our bodies and minds through our ears, much like air enters and enlivens us when we breathe.
In that sense, I view my job as a musician as important to society. If I'm responsible for generating these movements of air that come in sync with the spirit and have tremendous power to affect others, I want every moment of my performance, be it hymn, sonata or my own arrangement, to be fully inspired, well crafted and expertly executed.
Musicians are doctors for the soul. We can help heal emotional pain and suffering around us, help others overcome challenges, give others inspiration to keep going, and provide an outlet of communication between the human and the divine. But above all, we must remember it is not us human musicians generating that healing or inspiration. We are simply one of the conduits through which God can speak and influence the world. Our music carries the Spirit's message, a message that is different for every person receiving it.
Tell us about Arts at Ascension and those who benefit from it.
I founded the Arts at Ascension concert series to bring the highest level of classical artistry to the Fountain Hills and north Scottsdale community, but I also wanted to go further. Music is performed to make us feel, to make us connect with one another, to heal emotional wounds, to inspire us, to give us joy, to help us reflect.
While a live concert can provide for those needs of the people in attendance, it can also do more. Through ticket sales and sponsorships, Arts at Ascension raises funds for music education at St. Matthew School in inner-city Phoenix. Many studies show that music education benefits brain development, has a strong correlation with better testing abilities, improves verbal communication skills and cognitive ability, especially in math, and increases self-discipline. But so often, music education is the last area to receive academic funding and the first to be cut. Arts at Ascension has raised over $50,000 in four years to help provide music education to young people at St. Matthew's.
What is next for you?
A few more videos featuring music from Keys to the Cinema are in production or preproduction. I'm expecting to release a video of Pure Imagination/Somewhere Over the Rainbow in January 2018. The Theme from Schindler's List should be released by April 2018.
I'm already looking forward to my next album project. I'm considering going back to the style of my Christmas album, Winter Day Dreaming and recording an album of mostly original improvisations, this time in a lullaby style. Think "Calm Music to Study By" or "Piano Relaxation."
I'm also working on the debut album for my new trio, Vocelliano. The trio is piano, cello and soprano, and our first album is original arrangements of hymns, plus two original compositions, in a contemporary classical-crossover style. We are hoping to release that album in time for our performance at Arts at Ascension on Jan. 12, 2018.