Vintage PA: Fireworks!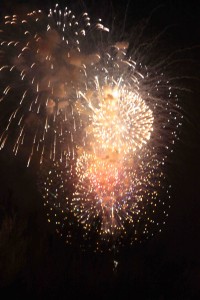 Some American pianistic fireworks in honor of The Glorious 4th! These are the best kind of fireworks for us in Arizona since our state has mostly been on fire lately. And yes, I know that Debussy snuck in about 10 days early and neither he or Wagner are American but I really couldn't resist. Besides, the traditional grand finale to most 4th of July firework shows is a piece by a Russian involving cannons.
Enjoy and Happy 4th!
Horowitz-Sousa: Stars & Stripes
Anderson & Roe: Cantina Band from Star Wars
Plowright: Banjo by Gottschalk
Previn: Barber Excursions 1 & 2
Ferrante & Teicher: Va Va Voom
Liberace: 12th Street Rag (2 ways)
Ride of the Valkyries 8 Pianist Extravaganza
This post was originally published in July 2011
Photo: M.H. Fischler