Artist Portrait: Catherine Gordeladze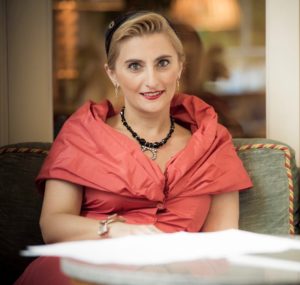 I'm very pleased to bring you this interview with pianist Catherine Gordeladze. Her newest album, Dance Fantasies takes the listener on a journey from the Baroque to the 20th Century and is already receiving worldwide accolades. It was inspired by a journalist's offhand remark suggesting that her playing style was ideally suited to energetic and agile piano dances.
Catherine's 2014 album, American Rhapsody, won the silver and bronze medal awards in the instrumental/performance solo album category at the American Global Music Awards. We chatted via email on topics including inspiration, creating orchestral effects, and the importance of music in our lives—professional or no. I'm so grateful for her time as well as the thoughtfulness of her answers.
First of all please tell us a bit about your new album, Dance Fantasies.
I wanted to mix a variety of virtuosic instrumental pieces, offering a selection of familiar and less-known music, with both famous 'bravura' pieces and rarely performed melancholic dances from piano repertoire including works by Rameau, Czerny, Chopin, Rachmaninov, Godowsky, Cziffra and Ravel. For example, the Godowsky transcriptions of Rameau pieces and Abeniz Tango are very lovely miniatures, and the rarely performed and brilliant Czerny Variations on a Favourite Viennese Waltz by F. Schubert, Op.12 deserve more attention in my opinion.
What inspires you?
I get inspired from a lot of difference things in my life. For example I like watching movies, attending a beautiful music concert or opera, taking walks through the park, visiting an interesting exhibition or reading an adventure book with vivid descriptions. The combination of these things contributes towards a creative mood and mindset. For my own performance, I like to see my instrument as an imitation of a great singer's voice. I regularly attend opera performances in order to find the magical 'bel canto' quality that I can then use in my own piano performance.
I know La Valse is a favorite of yours. Would you talk about creating those orchestral effects on a modern piano?
The use of dynamics and different touch pressure helps to create the impressionistic harmonies and colors of various instruments and threatening war rhythms. Of course it is important that the dramaturgical development of this piece of programme music begins with faintly distinguished dancing couples in immense hall and ends with a dervish dance. Ravel described the tribute to Johann Strauss as "…a kind of apotheosis of the Viennese waltz, with which is associated in my imagination (with) an impression of a fantastic and fatal kind of Dervish's dance."
You have said that if you hadn't become a pianist you would have been an actor.  How do the two intersect for you?
I decided to be a pianist very early on, but being an actress was parallel to being a musician and in my younger years it was a secret, dream profession. The reason for this was my love of theatre and cinematic art. I would very often attend the theatre in my native town of Tbilisi, Georgia and enjoyed the performances very much. It has definitely inspired my piano performance.
You are known for videos as well as audio recordings. Do you approach sound recording and video recording differently?
In video recordings you have the difficulty to not only focus on the musical performance but also the visual aspect. How does it look, can the people see my hands, etc. In a recording studio, I love to be focused on the sound only. Working closely with a record producer is really exciting, I always learn a lot from the whole process. But for recording, video or audio, I always prepare the same way: focusing on the piece I'm about to play!
Who were your greatest mentors – music and otherwise?
Outside of the professional world, my family and particularly my mother Maguli Gordeladze. She supported my musical progression from childhood, offering me tips and great pieces of advice. My music teachers were also very encouraging, and I was very happy to have had the opportunity to work with legendary pianist Alexis Weissenberg. His excellent tutelage and vibrant personality influenced my musical life a great deal.
What are the most musically humorous things that have happened in your career?
After my recital in Mühlheim, Germany, during the applause as I was making my bows came the voice of a sympathetic, elderly lady from the front row who suddenly came onto the stage and asked me quietly: "how can you reach to play Chopin so well, I have played some of Chopin's pieces and I know how difficult they are!" It was very sweet and funny.
What advice would you give avocational pianists from all walks of life who balance family, a career, and their love of piano?
I would first recommend them to familiarize themselves with a wide range of music by attending piano recitals and listening to recordings. It's easy to integrate music into one's life, for example while going to work you can listen to great recordings on your commute! I think this is the best way to get that motivation to starting playing the piano. Irrespective of how much time a 'hobby musician' or parent can invest in their own practice, already those few moments can brings a lot of joy and a new appreciation of life. Piano playing creates a positive mood and mind-set and replaces daily problems with the wonderful world of music!