Piano Maker's Corner: How I Became A Piano Technician In Rwanda
Repairing pianos wasn't something I saw coming.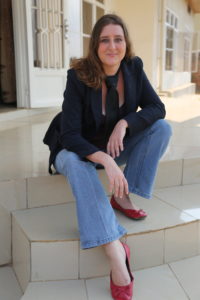 I first arrived in Rwanda in 2007. I was a volunteer with VSO, which is the British equivalent of Peace Corps. My role was to help the National Union of the Deaf to compile the inaugural Dictionary of Rwandan Sign Language. Like any language, sign languages are not only specific to countries, but contain a number of dialects and regional variations. Our job was to document these variations and try to agree on a standardised vocabulary that could be used to make teaching in schools, and televised translations such as the news, more easily accessible.
Rwanda is known as The Land of a Thousand Hills. From sweeping volcanic ranges, through dense rainforest to mist-covered lakes, it is a country of extreme beauty. Today it's one of the safest countries in the world to visit, it's extremely clean as plastic bags were banned long ago, and it's home to some of the last remaining mountain gorillas on earth. This is where Dian Fossey of Gorillas in the Mist fame was laid to rest, and a research centre continues in her name.
In 2014, I returned to Rwanda. I only intended to pass through, but several of my friends had also returned, or never left. It was easy to slip back into life in Kigali. The government has gone out of its way to encourage tourism and business. When I decided I was through being a tourist, I set up a company consulting for charitable organisations, but as time went by I found myself becoming more creative.
When I was a VSO, I didn't have many distractions. No television, no radio, few books. I started to write novels, and eventually gained some success. Now I teach fiction at a friend's restaurant and edit other people's novels, academic papers and company profiles.
Ever since moving here, I've wanted a piano. I grew up with both my parents having pianos, so I guess I associate them with a homey feeling. I don't play well, but I planned to practise until I could.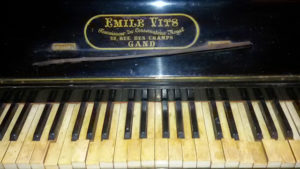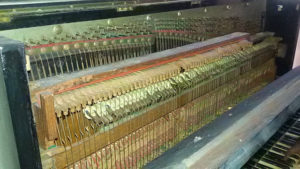 The problem was finding one in Kigali. I've seen a couple used as decoration: a cute spinet and a gorgeously Gothic Emile Vits, which I could just imagine playing Victor's Solo from Corpse Bride – all by itself. Unfortunately, both were broken beyond all hope.
In December last year, I saw an upright advertised. A gentleman who had lived here for many years had decided to return home to Egypt. He'd originally bought the piano, a 1968 Russian Lirika, for his grandson, who never played it. He'd paid the equivalent of £3,000 (roughly $3,750), and was asking £1,000 ($1,250). It was a big investment for me. You could pick up a piano of similar quality in the UK for around £250 ($315). I've even seen people giving them away for free on Craigslist. But, I knew that if I didn't buy it, I probably wouldn't get the opportunity again.
Lirika was in pretty good condition considering her age, but there were a few keys that didn't work, and she hadn't been tuned in ten years. I put out a plea for help. I heard back from one guy who said he could tune a piano, but nobody who could fix one. Having just invested so much money, I decided to make this my project.
I never grew up with a sense that I was particularly mechanically-minded. I'm not with anything else, but for some reason pianos just seem to make sense.
Everything I know comes from a combination of YouTube, Steve's infinite patience at Howard Piano Industries, and the book Pianos Inside Out by Mario Igrec. Not to mention, a huge amount of trial and error.
Some of the best mistakes I've made were tuning the entire piano with overpull unwittingly set on TuneLab, then having to tune the entire piano back again, rupturing a can of tomato paste across the wall whilst trying to straighten a string becket (because I didn't have a hammer), and taking the action out for the first time and being physically incapable of getting it back in for almost an hour. (I've since got it down to two-and-a-half minutes.)
But, there's nothing like hearing a broken note play for the first time and knowing you made that happen. It feels right to be doing this. One Christmas, gin & tonic in hand, I even found a Christmas tree-shaped cocktail stick tucked under Lirika's key bed.
If there was a fully qualified piano technician in the country, I wouldn't have attempted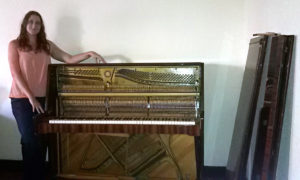 this myself. But there isn't. Sometimes we have to make do with what we've got, and if we haven't got it, we have to learn. That may sound disastrous to some, but for others it's a fascinating challenge. Thanks to that challenge, I now have a fully functioning, well-tuned piano.
Which I'm about to take apart. I've also founded a project, Kigali Keys, to build pianos here in Rwanda.
I'll tell you about that in the next installment.
Marion is currently runnng a project called Kigali Keys which aims to build pianos in Rwanda. Please check out their Indiegogo campaign. You can also find them on Facebook and Twitter .