Vintage PA: Presents Under The Piano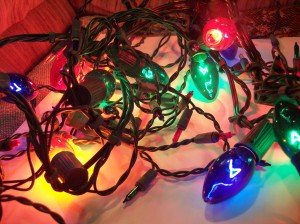 My favorite holiday note ever is written on a piece of binder paper in pencil and goes like this: Thank you for being my piano teacher. I hope to be blessed with your class again next semester. The young person in question had ADD and a host of other developmental issues.
To say the least, she had added much liveliness to our classes. Her Mom laughed and laughed when she handed it to me, and said that she wasn't sure I really wanted that particular blessing. Although there certainly were times during the semester where I was forced to regroup during a proverbial 10 count, I had learned much from the good humor and positive attitude of the girl and indeed felt blessed to work with her.
Then there is the card originally affixed to a plate of cookies that reads: Merry Christmas and Happy New Year! A little thank you for picking ME! This one was from a student in the free music lesson program where I taught. Another favorite is a tiny card, hand decorated with a huge smiley face, a Christmas Tree, and the words: You are a FUN teacher.
Yes, I have kept all of these in a box on a shelf in my studio. I have countless photo-cards of smiling children- several holding beloved pets. I have lovely notes from former students who have graduated and gone on to become, doctors, business people, teachers, musicians, and more. Many of these notes include photos of themselves enjoying music with their children.
I have a plethora of cards and artwork-some made from construction paper, some painted, some stamped and delicately colored, and some done in a minimalist pencil on newsprint style- all handmade with love. I can trace the growing up of my students through their handwriting in these missives.
I have a lovely tile and beautiful serving spoon which have graced the kitchens of 3 different houses. I have a rustic candle holder made from a tin can, now thoroughly rusted, which we enjoy whenever we eat outside. Ornaments, crafted and store-bought, brighten our windows and trees during the holidays. We have enjoyed countless plates of baked goodies, some elaborate and some rustic, all appreciated. (And, no. I have definitely not kept these)
As I went through my box, I was struck by the kind words of support from parents and from colleagues included in many of the notes- in fact I got all veklempt. I experienced a flood of memories of beautiful piano music- something else handmade with love. I happily recommend the exercise to any and all of you.
Happy Happy Holidays!
Portions of this post were published in December 2010.