Artist Portrait: Ayako Fujiki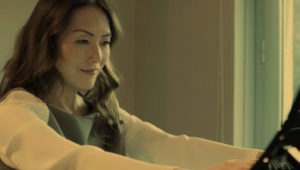 Meet pianist Ayako Fujiki! Raised with a rigorous classical background, she found an affinity for Spanish music early on. As a specialist in Spanish music, she trained under Alicia de Larocha and Carmen Mompou. Ayako's love for Spanish and popular world idioms is apparent in her own composing. The album Brightwater brings together many talents into a glorious multimedia experience.
We talked via email about her joy in music, the melding of classical, pop, and world music, and the beauty of nature. I'm grateful for her openness in sharing these personal insights and stories with all of us.
Talk a bit about your early years in music. Were you dedicated from the start or, like some, obedient at first, finding your love for music and piano along the way?
I hardly remember when I first started to play the piano. I remember that I used to have a red toy piano. My mother bought it when my older sister was born. I grew up playing this toy piano, played some songs which I just learnt by singing. When my grandmother saw me she decided to buy a piano for me. After that, studying music was a joy for me, I learnt quickly surrounded by people who always gave me lots of compliments. Just perfect addiction.
You have crafted a career that really is a crossover of traditional classical and modern pianism. Here in the US that is not as common as perhaps it is in Asia and Europe. I know you were trained first as a classical pianist. How did this crossover come about?
I have always been really focused on Classical. My parents always used to put classical music on and it was kind of prohibited to listen to J-pop for example. However, if I go somewhere, there is always music to hear. I never get to hear lyrics in songs but listen to the melodies and naturally remember them. I had lots of chances to like worldwide Pop, Jazz, Rock, even Japanese traditional music and all sorts other music. But I have difficulty in knowing which groups or which songs I know and like, because of how I got in touch with them in such a way. When I go on vacations somewhere I don't go often, I try to listen to the local music and to get their instruments. I like world music, also I like minimalist music coming from UK. Here in Barcelona, there is a great Electronic music scene… I guess all these influences come through when I compose.
How did you get started as a composer for film and advertising?
I have always liked the powerful combination of music and images together. I like video-art and soundtracks. One day one of my friends who directs for advertising agencies asked me for an original composition for one of his adverts. That's how…
What inspires your creativity as a composer?
Specially for this album Brightwater, the nature and feelings– the nature is fascinating, candid and inspiring. Beautiful spaces, gardens those created by humankind, do inspire me as well – it is as if I create a soundtrack for the beauty of the nature… And feelings also coming from the bottom of your heart.
I love the way the animations in your videos (especially the Monet inspired images in Brightwater) fit the music so perfectly. Would you talk a bit about that process please?
Credit should be given to a production… a Barcelona based production team, nominated to the 2013 grammy awards, who do mostly jazz and pop music. I was very impressed with their professional approach to both the creation and the filming of clips. A friend of mine introduced me, they liked my music, I explained how my image and my feelings were when I composed. From those hints, we created the story.
Who have been your greatest mentors and what gifts did they give you?
My Japanese mentors, one who already passed away and another……were kind of mothers of my music study….we had a special relationship and they always cheered me up. And my Spanish mentors, Alicia de Larrocha and Carlota Garriga(widow of Igor Markevich), apart from brilliant technique, they showed me how to love music and how to express my feelings whilst interpreting.
What have been the toughest (possibly negative) situations that you have had to learn from.
When you learn something, I think there is always a curve. In the beginning, You seem like you are progressing a lot but suddenly you feel stuck even if you are making a big effort day and night. I struggled and didn't know what to do next….after the struggle, you stop and do something else and come back where you were and again struggle…. being in such a long dark tunnel… you don't know where you are heading to… you lose your faith…. but one day you realize that you came out from there and you have already stepped forward. The first time when I was in that moment, I didn't know how my own learning curve goes. Now I know how to deal with it but until I understand that, it was really tough.
Tell us about some of the most humorous things that have happened to you in your career.
I had a Spanish classical concert in Italy with a top flutist who forgot his proper shoes at his home, so he had to play with his shiny black formal suits but with his white Adidas training shoes. He looked cool!
What advice would you give to young pianists who desire to tailor their careers to fit their unique talents and interests?
Follow your instinct with great determination.