Vintage PA: On Your Way To Wonderful (and a little family history)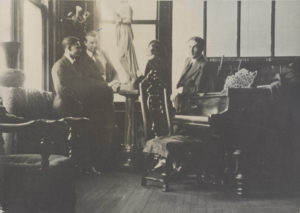 Bill Withers, Singer, Songwriter, & Soul Icon,  whose credits include the hits Ain't No Sunshine, Lean On Me, Lovely Day, & Just the Two of Us, once gave the following advice to his children:
…it's okay to head out for wonderful, but on your way to wonderful, you're going to have to pass through all right, and when you get to all right, take a good look around and get used to it because that may be as far as you're going to go. (Bill Withers, Still Bill, NPR)
Sounds harsh doesn't it? Bill Withers had fame and fortune as a soul icon, but the cost of wonderful was more than he was willing to pay. So he gave it up for a quieter, "all right", life. The cost was simply more than he was willing to pay. As the old saying goes, be careful what you wish for because it might just come true.
Bill didn't settle for "all right", he chose it in order to live a better life. The decision to give up wonderful had nothing to do with his creative ability, aptitude, or achievement. He loved his art and hated the lifestyle and politics that went with being a musical icon. Incidentally, he got to keep being creative when he chose "all right" as his place in the world.
My Grandfather, Harry Zickert, did much the same thing as Bill. He went to New York and trained as a Wagnerian baritone. I love seeing pictures of him in his teacher's studio. For me, it is quite the connection between generations. Harry started his career just as WWI broke out. Suddenly, German opera was out completely and, with a name like Zickert, he found it hard to get work no matter what he sang. He sang for a while under the name of Richard Dore and even sang at the Met.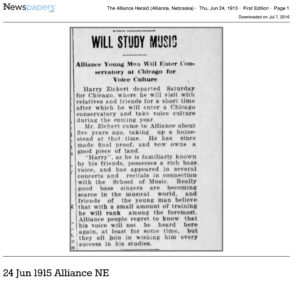 Eventually, the life was just too high a price for Harry. So, he gave it all up and became a cowboy. He didn't give up music completely though. My Grandmother who was a fine amateur pianist, told me stories of how they would spend the evenings together with Schubert, Gilbert & Sullivan, Wagner, and friends and even perform occasionally in community programs. I have a program from a production of Alice in Wonderland in which he played the Mock Turtle.
We often feel torn—even guilty—in "all right" situations. To me, so long as you keep your skills wonderful, you can be guilt-free. Practice for wonderful and expect wonderful from yourself, but be realistic about how you will use your gifts.
Do you have a love of teaching? Great administrative skills? The ability to write well? Do you feel energized by audiences? Do you need lots of quiet reflective time? Do you love social events and being the center of attention? Do you go into a practice room and become so engrossed in the music that you lose all sense of time? Do you love horses and wide open spaces like Harry? When you examine all your gifts and personal needs, you can make wonderful decisions about how to balance your musical life and never feel guilty about your choices.
Yeehaw!
Portions of this post were originally published in 2010.