Playing With Wolfgang: Exotic & Forbidden?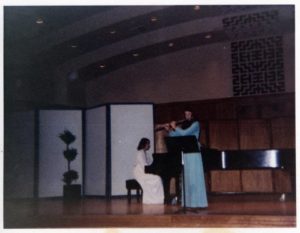 On the first day of my freshman year at San Jose State, I entered the music building and immediately found myself at an open classroom door. The sounds coming from within were exotic—beyond anything I had ever experienced. Also, all I could see as I walked past were the backsides of kneeling students, each intent on their part of the whole.
I had stumbled upon Lou Harrison's wonderful gamelan room. The beautiful, exotic sounds followed me throughout my time as an undergraduate. They wafted across the hall to infuse (confuse?) the atmosphere in aural theory. They floated outside, a welcome tropical breath during the foggy, rainy winters.
All this exoticism seemed forbidden to me. Like something dangerous and subversive. What can I say? I was 18 and very sheltered. Also probably misguided. I was struggling to figure out the intricacies of style, phrasing, and communication in my classical repertoire and trying to show my teacher that I had it in me to be a pianist at all.
Hindsight is 20/20. I look at that girl and know she could have probably explored the Gamelan and not taken anything away from her piano studies. In fact, she probably would have been better for it. My teacher probably would have encouraged me—he had premiered some of Lou's pieces. I joined marching band instead where only brass players were allowed and I had to be in the Flag Corps. What was I thinking?
Why did this all come back to me today? Friday was Lou's 99th birthday and big doings are planned for his 100th year. I didn't know then that he was one of the very important 20th Century composers—maybe he didn't either. Why I felt his music was subversive I don't know. It makes that girl seem very prim and goody, goody. Perhaps I was.
Those exotic sounds helped shape me though. The music of Messiaen and others is totally natural to me. I don't need to think about how it should sound. It just happens. And, the experience of those exotic, seemingly forbidden sounds is certainly one of the motivations for my piano arrangements of songs from around the world. Thanks Lou.