Artist Portrait: Alessandro Deljavan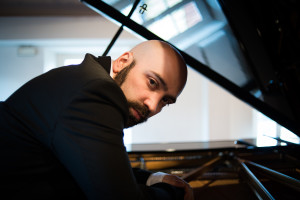 Meet Italian pianist and cook Alessandro Deljavan. Yes, I said cook! When they were filming the documentary for the last Van Cliburn Competition, he cooked for the filmmakers and they seriously wanted to do a cooking show with him. You can read more about him and view videos here.
We chatted via email. What fun it was to translate his colorful Italian sayings. In the end, I think we did a good job. You all can be the judges. I'm grateful for the thoughtfulness of his replies and for the wonderful recipe for Penne Norma that he shared. Please enjoy.
You began performing at age 3- an extraordinarily young age. Did you come from a musical family?
Fortunately I did not! I cannot imagine myself in a family of musicians. My parents always loved all kind of music and my Uncle Franco was an incredible musical talent. He played many instruments but he never had any teacher!
What was your early piano study like? Were you naturally a serious, disciplined child?
All my memories about the young Alessandro playing piano are very related to games with music. I loved soccer when I was young, and I spent most of my time, let's say until I was 16 years old, practising soccer much more than piano. Now that I'm not young anymore I have more time to practise piano! I must say that I'm still a big fan of my favourite soccer team, Inter, from Milano.
Who have been your greatest mentors? How have these people influenced your path?
I can say so many names! But the most important names are two: Fou Ts'ong and William Nabore. I met Fou Ts'ong for the first time when I was 18 and he gave me the certitude that music could fill my life. That is something I will never forget.
William Nabore is my most important Maestro- a man who really built my musical thought. He taught me that there is something hidden behind the scores. He also transmitted to me the art of chamber music and a love for the string quartet. I can never thank him, as he deserves, for all he has given me. Of course, he is also a great chef (not just a good one like me)
What is your most fond memory of making music? Most humorous?
I still remember when my father came back from work at the end of the 90s, and always he loved to fall asleep to my piano music. It was the most relaxing moment of his day, and I was so proud to make him feel good.
Once, I played an all the lied of Hugo Wolf during a masterclass of a famous Maestro. It was the first time I had played it in my life and I started playing it with no flats, when it was written with 6 flats. After the first page I suddenly understood my mistake and I decided to play in the same way until the end. I was sure of a big scolding after my performance from the singer, but no one understood the mistake!
I'm told you are an amazing cook and that you created some wonderful food during the filming of the last Van Cliburn documentary. Can you talk a bit about music and food and how they come together for you?
I love to use spices very much. All kinds- from curry to curcuma (tumaric), to basil, parsley, and coriander. But, my favourite thing to prepare is certainly risotto. Of course we are always speaking of art.
I don't find a great connection between the two arts and, I have to be honest, it's really hard to connect a piece of music to a special dish. The interpretation on making a dish has to be always controlled by the fact that you can cook unsafe or unhealthy food but there is no limit on a music interpretation- ever. There will always be a new idea. Music is constantly growing!
You have performed great piano works across the globe. What music do you play just for yourself and/or for special loved ones?
My loved ones normally never ask me to play for them. My mom still cannot be in the hall while I play- she suffers so much.
Bach makes me think and gives me the power to overcome the many troubles of life. Sometimes, I really feel it's time for me to play some Bach Preludes and Fugues, or Partitas, or Suites. I would say also Schubert, especially the last sonatas. Bach and Schubert are perfect when I play for myself.
Do you have some upcoming projects you would like to talk about?
Besides several solo and chamber recitals and the first Tchaikovsky Concerto (that I will play for the first time in my life), I have few wonderful recording projects coming up.
In April I will dedicate two CDs to the Spanish composer Federico Mompou, who has a great French taste, in my opinion. A few days later in April, I will work on a piano/violin CD of the Franck and Elgar violin sonatas with my wonderful violinist friend Daniela Cammarano. I'm really looking forward to it!
Then, I have other plans (still not fixed) but, I really want to record the ten Violin Sonatas by Beethoven with Daniela. We have worked together a long time, and we perform all the sonatas. It's the right time to show people what we think about these pieces.
I would also love to conduct at the piano the complete Mozart Concertos, with a small chamber orchestra. For a soloist, many times it is impossible to work on the details with the orchestra and that is what I would like to change. I want to try to work with every member of the orchestra. And, that is also why many of my projects are related to recording sessions.
Recording is one of the few ways to experiment in different ways and then choose the perfect take during the session. It can be a very special moment.
Would you share one of your favorite recipes with us please?
Here's my very fast and very special version of the famous pasta dish, Penne Norma. And, the name is the same as the famous Opera of Bellini!
Penne Norma
For two persons we need:
12 oz. (180 gr) mezze penne (possibly "rigate"- with lines)
Medium eggplant cut in small cubes
25/30 small tomatoes (Datterini if available)
6 oz. (150 gr) Ricotta (Sheep milk ricotta preferred)
2 tbs Pecorino cheese
5 Basil leaves (cut by hand!!)
½ large white onion chopped
Olive oil
Making the dish:
(Get your pasta water hot so we can cook the Penne quickly later)
Now, we roast the tomatoes in a preheated 350F (180C) oven for 10 minutes.
Then, for two minutes we cook white onion with little olive oil on it (the onion has to be golden, then we can put the tomatoes)
Adjust with salt. (not too much because we have pecorino and pepper on the dish)
In a different pan we fry the eggplant that we already cut in small cubes. Sunflower oil is best for this but you can use other oils too. It's extremely important to drain the pieces of eggplant well on paper towels after we fry it.
When the eggplant is well drained add it to pan with the cooking roasted tomato sauce.
Cook the pasta, and one minute before is "al dente" (about 10-12 minutes for dried penne; less for fresh) put the pasta in the pan with the sauce and the eggplant that we already mixed together.
Take the pan off the heat. Now we can put the ricotta with 2 spoons of pecorino cheese, basil and generous amount of black pepper!