Piano Maker's Corner: Piano Company Trivia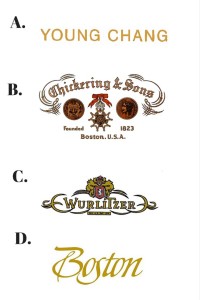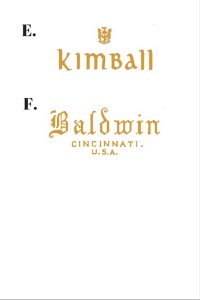 This piano company not only makes pianos and their own reed organs, but they also create furniture for the home and office. They have also produced a popular line of phonographs, and produced aircraft parts for major military airplane manufacturers in WWII.
Was initially successful due to defense contracts to provide musical instruments to the US military. Eventually acquired other companies that produced carnival rides, radios, and kitchen appliances. As technology evolved, this company became more known for producing electronic instruments and jukeboxes.
This company is an American brand. However, it ceased its development in the early 2000s and moved to China. Due to bankruptcy, Gibson Guitar Corporation bought the company in 2005.
A very well known piano company manufactures this type of piano. It is specifically made for a mid-level market; it is made from lower cost components and labor. These pianos are usually manufactured in Japan at a Kawai factory. These pianos have a large soundboard and a wider tail design.
This company was founded in the 1950s outside of the United States. They also currently hold 50% of their country's piano market. This company also manufactures electric guitars and basses for Fender Musical Instruments Corporation, and also manufactured acoustic, acoustic/electric, electric guitars and basses under their own "Fenix" brand.
The company was founded in 1823 and continued to make pianos until 1983. The factory and the surrounding buildings were burned down in 1852. However, a new factory was built and still stand today in Boston. This company was the largest piano manufacture in the United States until Steinway surpassed it in the 1860s. Today, this company manufactures under a new name – Baldwin Piano Company.
Scroll down to check your answers
Answers: 1:E,  2:C,  3:F,  4:D,  5:A,  6:B