Great Finds: Summer Listening & A Tool To Nurture Flow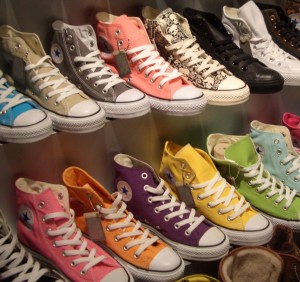 Spice up your summer listening with some Gorecki, Glass, Riley, Bach, Scarlatti, and friends. Plus, check out a new interactive practice and learning tool. It's all here in this edition of Great Finds. Enjoy!
The developers of Flowkey built their new interactive software on the premise that being in a flow state is the best motivation for learning and results in the best possible outcome. According to research, the 3 things that must be present for flow to occur are immediate feedback, appropriate difficulty, and an absence of distractions.
In Flowkey, a flow state is encouraged through real time sound recognition in two ways. First, feedback is instantaneous and the learner can proceed at their own pace rather than practicing mistakes in order to keep up. The program will stop at a mistake and not proceed until it is corrected. There is no rushing ahead.
Real time sound recognition also helps the learner focus by eliminating distractions such as turning pages back and forth in section practice and restarting video or audio segments. Passages can be looped for section practice. Once the loop is set there is no resetting needed so the learner can just focus on the task.
The interface and notation are clean, clear, and easy to use. Currently there are over 200 pieces available. They range from classical to pop and are graded according to difficulty. The recordings are high quality with professional performances.
In order to use the sound recognition you need to install some additional software and have a midi hook up. (Clarification 7/22/15: to use the sound recognition you can just use the built-in microphone of your laptop (or very soon, your tablet). If you're not using the safari browser, it just works with your microphone and without any software. You only need to allow microphone access. To use MIDI, you need to install a plugin; with Google Chrome MIDI not even that is necessary.
You can start with a limited number of songs in Flowkey Basic for free. You do need to upgrade to the premium version to have the entire Flowkey library to choose from.
I can see that this would be very useful for some types of learners and could truly help them to combine the ear, eye, and body. However, it might enable those who find rhythm a challenge. For teachers, Flowkey would be a helpful supplement to private lessons as it would strengthen focus and build practice skills that could be applied to other pieces.
Time Present and Time Past: Mahan Esfahani
In this new recording, Mahan Esfahani connects and contrasts modern minimalism with music of the Baroque.
As I started to understand the great possibilities of minimalist style, my mind began to make connections to the same techniques-specifically the manipulation of patterns and "cells" of material-as practiced by composers of the 17th and 18th centuries.
I found this CD so timely (no funny stuff intended) because just a few days before I received it, I heard a movement from Gossec's Mass for the Dead while driving. I was struck by such in your face repetitive elements that they might well have been employed by one of today's minimalists. Cosmic unity sent along Mahan Esfahani's own epiphany.
La Folia and variations on it are central to Mr. Esfahan's vision of these stylistic connections. Mr. Esfahani contrasts Alessandro Scarlatti with Henryk Gorecki, CPE Bach and Frecesco Geminiani with Steve Reich. The final work on the recording is JS Bach's D Minor Harpsichord Concerto which I truly heard with new ears. I don't know if it was because Mr. Esfahani brought out the repetitive, rhythmic elements or if I was just more tuned into them after hearing the previous works.
The recording was made using period instruments. Mr. Esfahani recorded and overdubbed the Steve Reich Piano Phase for Two Pianos himself. And if you are wondering, no, this is not merely an academic exercise. The interpretations on Time Present and Time Past are full of life, character, and passion.
Zofo Plays Terry Riley: Eva-Maria Zimmermann & Keisuke Nakagoshi.
Zofo stands for 20 Finger Orchestra and all of them are busy in this engaging CD. From the Etude from the Old Country, to Tango Doble Ladiado, and Paying Mantis Rag our toes are busy tapping away. All that dancing energy is contrasted by the the primal viciousness of the Half Wolf Dances and the serenity of The Heaven Ladder (which incidentally brings to mind La Folia… Coincidenza?).
I loved it all. Zofo and Terry Riley will put some pep in your summer listening for sure.
Valentina Lisitsa Plays Phillip Glass
This album contains both works written for piano and arrangements of excerpts from Glass' film music and ensemble works. The arrangements translate the orchestral sound to the piano wonderfully and her playing is sensitive and gorgeous, balanced with well timed fire and intensity.
The 2 CD set includes 9 selections from The Hours, Opening and Truman Sleeps from The Truman Show, Lighting of the Torch from the 23rd Olympics, Six Metamorphoses, and Wichita Vortex Sutra. This is Valentina Lisitsa as you may have never heard her. And, if you haven't, check out her interpretations of the music of Michael Nyman on her album Chasing Pianos.