Introducing Stepping Off The Page!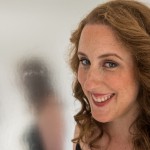 Say hi to Deanna Witkowski and her new column, Stepping Off The Page!
You all met pianist and composer Deanna Witkowski in last month's Artist Portrait. Since her Great American Jazz Competition win in 2002, she has been busy touring, has 5 albums to her credit, and currently holds the piano chair in the BMI/New York Jazz Orchestra.
Deanna is passionate about improvising and is excited about this opportunity to connect with all of you. In this column she will  teach and discuss improvisation in a broader context than just jazz and do it so all of you, no matter your level, can use the ideas she posts. Of course, she welcomes your questions and feedback so please keep those coming.
Look for her first column in early July. Welcome Deanna and happy improv fellow addicts!