Artist portrait: Deanna Witkowski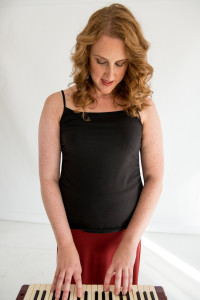 In this edition of Artist Portraits, we meet pianist and composer Deanna Witkowski, winner of The Great American Jazz Competition. Since her win in 2002, she has been busy touring, has 5 albums to her credit, and currently holds the piano chair in the BMI/New York Jazz Orchestra.
A very spiritual person, she is inspired by courageous women from Elizabeth Warren, to Dorothy Day, to the Virgin Mary. She has composed 85 liturgical works including two original texts about biblical women.
She has recently released her new Album, Raindrop: Improvisations With Chopin. We chatted via email about her musical growing up, improvising, her inner life and how it relates to her music, and, of course, Chopin.
What was your musical growing up like?
 My family moved eleven times before I completed high school. Because of this, I wasn't always in one school for very long. I started violin lessons in third grade, but then in fourth grade, we were in a new place where my school didn't have a string program.
I'd already started learning to play piano on an organaire with some beginning piano books and before that time, my kindergarten teacher had an upright in the classroom. She had told my mom that she thought that I was musical.
In fourth grade, my mom, who is a visual artist and art teacher, found a piano teacher for me. She bartered doing a series of paintings of my teacher's house for a year's worth of piano lessons.
The organaire started to not have enough keys, so I went to a neighbor's house to use their upright until my mom bought a studio upright for $50 later that year. That was the piano we had all through my high school years.
I started playing flute in fifth grade, and basically grew up with both piano and flute lessons. I had some great teachers, particularly in junior high (Elizabeth Bush- piano) and later in high school in the Rochester, NY area (Michael Landrum- piano; Diane Smith- flute; Barb Gross- wind ensemble).
In twelfth grade, I was in six different musical groups at school and also played in a woodwind quintet and a classical piano trio at Hochstein School of Music. Piano was always my main instrument.
When did you start improvising on the classics?
It's actually not something that I've done a lot of, beyond my new album, Raindrop: Improvisations with Chopin. I don't recall improvising in my growing up years while I was taking classical lessons, or while I was learning my classical repertoire as a piano performance major. I started improvising in jazz contexts during undergraduate school.
I'd been introduced to jazz in the tail end of high school, and wanted to learn to improvise. Wheaton College (IL), where I went to undergrad, had no jazz pianists on faculty, so I studied with Larry Panella, a great tenor saxophonist who is now the head of jazz studies at the University of Southern Mississippi. I figured that since flute and saxophone had similar fingerings, I could start learning about jazz (and improvisation) on saxophone first, which is what I did. I even played lead alto sax in the college jazz ensemble my senior year.
At the start of my junior year, I began studying off campus in Chicago with jazz pianist Brad Williams; I also started playing in combos at another local university. It was once I started the lessons with Brad that I knew that I had to pursue jazz piano.
Please talk a bit about your Album, Raindrop: Improvisations With Chopin.
Raindrop is a solo album that features my arrangements of eight Chopin preludes, nocturnes, and etudes, and includes six additional free improvisations.
To me, this recording is not strictly jazz or classical. It involves elements from each (i.e., from jazz: improvisation and extended harmonies).
I am both a classical and a jazz pianist. Much of my work is also centered around Brazilian music. I like the idea of improvising in different languages- of trying to stay true to a specific composer or idiom by improvising in that idiom, yet also adding my own mark. It's something I think about as an arranger.
At times, when I've mentioned this project to others, I hear comments such as, "Oh, have you heard that swing arrangement of Chopin's Funeral March?" The whole idea of this project was to have the original Chopin pieces be the grounding for the arrangements- not to just add a specific rhythm and play the piece as a swing tune. That may be fun for a minute, but as a composer myself, if someone wants to arrange my music, I would hope that they would try to bring something of the aesthetic of the original into their arrangement.
Also, this record is pretty intimate to me. It's very vulnerable to play solo piano- and especially for a record that is an hour in length! I wanted to take all the time I needed to revel in the beauty of specific notes and chords. I think that you hear this at certain points. For instance, there are four tracks (#2, 6, 11, 14) that are all improvisations based off of the final E-flat major arpeggio in the opening Nocturne. I didn't always know where I'd be going next in terms of anything other than the shape of the arpeggiated figure. So, I tried to let the sound of whatever I'd just played help to inform what I'd play next.
When you play the Preludes in E and Eb minor, or the Etude in Eb minor and I know you are going Brazilian I can hear that the repeated chords, triplet pattern, and meandering bass line are absolutely set up for that to happen, yet most of us would never go there. 
Jobim stated that the song, Insensatez (How Insensitive), was directly based on the Chopin Prelude in E minor. The chromaticism of the melody and the harmony are pretty much the same in the Prelude and in the Jobim for the first couple of phrases. In my arrangement on this one, I really wanted to show the interrelationship between the two pieces, so I kept the exact pitches of Chopin's left hand in the first eight bars, but simply included more upbeats.
The arrangement of the Prelude in E-flat minor came out of practicing the prelude in its original form. I was working on getting my octaves between my hands to be as even as possible, so in order to practice that, I took each of the notes in the repeating triplet rhythm and made one longer than the other two (long-short-short; short-long-short; short-short-long). The second of these options becomes what is called the "fork" pattern in Brazilian music: a sixteenth, dotted-eighth, sixteenth pattern (notation-wise, it looks like a fork!). I kept that rhythm in my right hand and changed the left hand to more of a baiao rhythm.
The Etude in E-flat major was the first Chopin arrangement I ever did- in fact, I recorded this on my 2003 album, "Wide Open Window." I was practicing the opening section with its gorgeous chromatic left hand figures, and started hearing the jazz standard "You and the Night and the Music" over the top of those figures. I keep that triplet-like rhythm happening until I get to the bridge of "You and the Night," and then completely reharmonize the tune before returning to the final two bars of the original Chopin.
When I started listening to Chopin, after reading about you and jazz plus Brazil, I was immediately drawn to the fact that the bass lines were already perfect for rhythmic makeovers. Yet you mostly didn't go there. Did you choose not to overtly change the rhythms in Chopin's bass lines to Brazilian rhythms because it would be too cliche—too much like just playing in swing time? 
Chopin has gorgeous melodies, interesting harmonies, and wrote for my instrument. That is plenty to work with. Also, the fact that so much of Chopin's music is well-known is fun for me: it allows me to enter the music and see what I can do to play and arrange that music in a way that resonates with the rest of my work.
There are some pieces that do use Brazilian rhythms (the whole up-beat left hand rhythm in the Prelude in E minor/Insensatez and the baiao version of the Prelude in E-flat major). But there are also a lot of harmonic similarities between Chopin and certain Brazilian composers- mainly in terms of chromaticism and using chord inversions.
The pairing of Jobim's "Olha Maria" with the Prelude in C minor is one example. The opening minor sixth in the melody of Luiz Bonfa's "Manha de Carnaval" (Black Orpheus) and the first few chords are the same as Chopin's final Nocturne in E minor. As an arranger and as an improviser, I wanted this recording to not be "jazz" here, or "classical" here, or "Brazilian" here: I wanted it to be a single, integrated whole.
You are also a well-known composer of choral works. How do piano, classical, jazz, improvisation, and choir feed off each other—or do they?
I don't view music as being genre-specific: in other words, I don't look at improvisation as being something that's only restricted to jazz. Improvisation for church musicians is a lost art in some circles- but to me, it's perhaps one of the most necessary skills for a liturgical musician.
I originally moved to New York in 1997 with a full-time job as music director at All Angels' Church, an Episcopal parish on the upper west side. We had monthly healing services where there was an open-ended time where attendees could approach one of three or four designated folks to ask for prayer. I used instrumental music for most of that time, and often improvised for 15-20 minutes. I'd improvise on a hymn tune, on an interval, on a phrase… There is nothing that says that improvisation is limited to one musical genre.
 Talk about what inspires you and spurs you forward.
 Much of being a musician, at least for me, is about the actual discipline of doing the work and then perhaps feeling inspired as the work is happening. As a composer and improviser, the particular sound of one chord, or one interval, or rhythmic pattern may inspire me to try to get inside of that sound, or to extend or alter it in some way. As a jazz player- especially when I'm playing in a small group- something that the bassist or drummer plays may influence what I play next.
I really think of those who have gone before me, whether I have met them in person or not, as being saints who continue to play an active role in my life. For music, Mary Lou Williams has been and will always be a big inspiration.
Text also plays a large role in much of my composing and arranging. I love being able to delve into a text through composing. To me, it can be a form of "lectio divina," a type of sacred reading where you take a text and read it several times, listening for a particular word or feeling that stays with you. Finding sound that enlightens a text is a way for me to meditate on a deeper felt meaning that cannot be expressed simply by saying, rather than singing, the words.
I would also say that developing my inner life has been a huge part of my work as an artist. I just completed an eight-month "retreat" of sorts, based on the Spiritual Exercises of St. Ignatius. The whole experience has made me more grateful for the gifts that I receive each day, which definitely includes being able to share music with others.
Update
Last Tuesday the jazz world was shocked when it was announced that the BMI Jazz Composers Workshop would not be continuing in its 26-year tradition of having a professional big band (or focusing on big band writing) starting this fall.
Yesterday there was an update from BMI: they have said that they wish to leave the workshop intact with the big band in place. There is a meeting with Charlie Feldman, VP for BMI's Writer/Publisher Relations, next Thursday.
You can view and sign the open letter in support of continuing the tradition here.