PA Shorts: Fortune Cookie Advice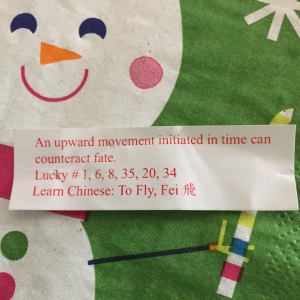 Happy, happy Holidays to all you piano addicts and many, many thanks to each of you for reading and supporting the blog. On our recent trip to Las Vegas, we went to a Chinese restaurant with our cousins. My fortune inserted in the mandatory end of meal cookie read thusly:
An upward movement initiated in time can counteract fate.
hmm…
Technical, interpretive, pedaling, or career advice?  Following through with the wrists? Arching phrases? Getting off the bench to stretch and rest more often? Sitting on a higher chair to teach?
What do you think piano ninjas? Go!