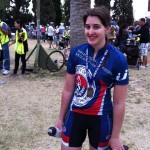 The post went something like this:
No matter what your musical goals are we will set up a training schedule that fits with your time frame.
Whoa…
The word training is most often seen these days in connection with visits to the gym or musician's bios (i.e., Ms. Music received her early training at ­­­­­­The School for Musical Moxie.) People expect to train for a marathon, or a bike race, or the Olympics, or football, or boxing. They don't necessarily expect to train for a musical goal.
Why?
Perhaps part of the issue is that a large percentage of music students are children and our society shies away from using the word training in connection with children.
Perhaps many people view learning and playing music as a process that is lifelong and so don't really state personal goals such as I want to play at church, or I want to play Moonlight Sonata for my own enjoyment, I want to play at my sister's wedding, or I want to enter a competition.
Perhaps teachers impose their own long term plans on students and don't take in to account how the short term goals of the person they are teaching could fit into those plans or even alter them altogether.
Perhaps people are reluctant to voice their goals because they fear that anything less than total success will be viewed as total failure. Yet to the average runner, finishing that marathon that they trained so hard for to the best of their ability is cause for celebration.
Perhaps to 21st Century general society, the word training implies something that has a definite use by date.
…
Most of us have short and long term goals even if we keep them under a rock someplace and don't tell anyone. Goals are good. They give us something to work toward. They are milestones as we look back and see where we have been.
So, perhaps we should take back this word training. Perhaps it would let students, parents, and friends alike know that serious work is involved in attaining our musical goals—that it's not ok to talk on the phone during our "practice" time or skip it all together to go to the mall, or work only when it is convenient and we remember.  The word train just might resonate in our sports obsessed society in a way that practice does not.
Here's an idea. Instead of Practice Directions we might give Training Tips.
Training does not have to imply that you expect to become a professional musician. Training implies that you are serious about making music part of your life and plan to pursue it to the best of your ability. Practice is an aspect of training along with things like diligence, concentration, and discipline. The milestones reached through training are part of a lifelong journey to musical understanding.