Guest Post: Caroline Richards on Green Pianos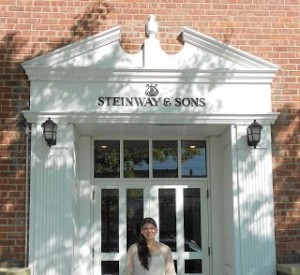 Sustainability, energy-efficiency, and going "green" are all hot topics in the global world today. Companies flock to renewable energy because it increases their commercial advantage and saves energy costs…in the long run. What many do not realize is this does not merely apply to large companies, but also to the small, and not only to basic manufacturers, but also to the specialized. Thus the reason for my project.
Is Piano Manufacturing Joining the "Green" Quest?
A brief look at piano manufacturing… Pianos require different types of wood for various parts—each wood containing special qualities that make them the best for multiple purposes. For example, the outer rim is composed of a hardwood that has strength and elasticity, such as maple or beech; however, Bösendorfer uses spruce wood for the outer rim which is uncommon and gives the Bösendorfer an unusual sound.
Cast iron or cast steel is used for the main frame, while the strings are usually composed of high tensile wire or high carbon steel. The bass strings are additionally coated with copper since they will be burdened with more tension and require additional mass. The soundboard, as mentioned earlier, is made of spruce for its strength and minimal acoustic disturbance.
The keys of the instrument, formerly made of ebony and ivory, are now composed of spruce in most pianos. The hammers attached to the keys are made with wool felt. Most of the additional parts are made of hardwood, again for its strength. Each material serves a different purpose, but it is not uncommon for even the high-quality piano industries to show discrepancies among the materials they use. Researching each material and material waste will be vital in assessing each factory.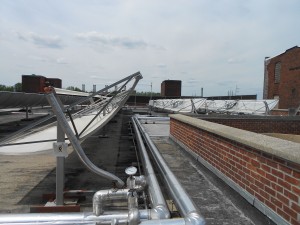 Piano manufacturers have tried to incorporate some of the latest technology into their process, while still keeping most of their traditional craftsmanship by hand. The new computer-controlled machines increase the ease of the procedure; however, a lot of the precision work is still done by hand. The rim of the case is created by the bending and gluing of long-fiber woods; however, the Bösendorfer factory glued makes many small cuts in the spruce wood to bend it into shape.
Next, the cabinet is sanded, stained, wood-bleached, sealed, and glazed with repetitions or other minute steps involved. The pinblock is sawn or cut, and then holes are drilled into it for the tuning pins, nosebolts, etc. The cast iron is made in a piano foundry, where molten metal is poured into a mold.
The strings are measured using scale sticks and then wound around the tuning pins. Piano keys are cut and covered with black and white plastic. All the other additional necessities of the piano, such as the pedals, key cover, and music rack are put into place, completing the building process. Whew- more than 1000 individual steps! And that is why it takes up to a year (if not a little longer) to complete a grand piano.
The uniqueness of sound among each different brand of piano is due to the different materials and methods used by the manufacturer. Throughout my visits to each of the factories, I hope to expand this knowledge and learn the individual methods specific to the various factories. An in-depth page on the Steinway production process is soon to come! I have visited the New York factory, and will visit the Hamburg factory the morning of May 27th. I will also visit Bechstein, Schimmel, Grotrian, Blüthner, and Steingraeber & Sons.
Research Questions:
Where does the wood you use come from?
How old are the trees you use?
Is the style of the cut quarter- or plane-sawn?
Do you replace solid wood components with composites?
Have you changed your species mix within the past twenty years?
Is there mandatory recycling of packaging?
Have you encountered issues with the LACEY Act when exporting to the U.S.?
Have you endorsed the Green Dot System?
Has there been a reduction of waste? Of greenhouse gas emissions?
Are the domestic materials certified as harvested sustainability?
What mode of transportation is used to ship the pianos?
Have you introduced any renewable energy resources for the factory?
Do you use your wood waste? If so, for what purpose?
What kind of glue are you using? PVA or water-based?
What artificial materials (and lacquers) are used?
Where do the materials being used come from? Felt, metal, etc.?
Are mostly paper products used to package the pianos? Any plastic?
Is there a Life Cycle Assessment of your pianos?
What are the steps of training? How long do they take?
Caroline Richards is a current Virginia Tech student pursuing degrees in both Environmental Engineering and Piano Performance. With that in mind, she designed a trip proposal to explore how piano production is becoming a more environmentally-friendly system. The trip is confined to mostly German piano manufacturers, simply because Germany is a global leader in the sustainability quest; however, she will also be participating in an 8-day intensive program with Transatlantic Program-Young Technology Leaders. To document her experiences, she has created a blog to include both non-serious stories and educational research. 
Caroline will be touring at least six piano factories (one already completed in New York with the Steinway & Sons factory) to analyze how the process has become more "green" or sustainable. This independent research is funded by the Horton Scholarship that was granted by University Honors at Virginia Tech. Her two majors are Civil Engineering and Piano Performance, with a minor in Green Engineering. She has just arrived in Germany and is ready to start this adventure.