Review: Adele aus der Ohe, the Untold Story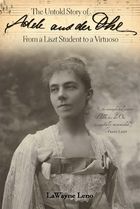 La Wayne Leno: The Untold Story of Adele aus der Ohe: From a Liszt Student to a Virtuoso
The Untold Story of Adele aus der Ohe: From a Liszt Student to a Virtuoso is a highly documented tale of one of Liszt's most influential yet obscure protégées. She, Eugene d'Albert, and Ignace Paderewski were contemporaries and the matter of who was greatest among the three was a subject of furious debate.
Through articles, concert programs, and letters, La Wayne Leno (who himself studied with two of Adele's students) brings alive the life of a premier traveling woman concert artist at the turn of the century. Along the way he treats us to to insights about the musical thought of the time, for instance this gem from the New York Times, 1899:
"It really does not matter who is the greatest living pianist. The only question is who is worth hearing? And Mr. Paderewski is not the only one. The American habit is to try to find out who is the best and then to refuse to go to hear any other. It is a remnant of our Yankee origin, this habit, for it is only an attempt to save money… That is one of the lovely things about works of genius. They lend themselves to touches of different personalities, without losing their own identity."
Adele performed Tchaikovsky's First Concerto at the opening of Carnegie Hall with the composer himself conducting and they became good friends. Chapter 4 provides interesting, and sometimes amusing, glimpses into their friendship, Tchaikovsky himself, and the birth of that concerto such as this tidbit concerning a program in Baltimore .
"Tchaikovsky, relatively new to conducting and still somewhat awkward on stage, acknowledged the ovations by making curt bows. Following the Piano Concerto, he was recalled five times, and each time tried to hide behind us der Ohe (Whose name had been accidentally omitted from the program.)"
I truly enjoyed meeting this great pianist and, even if you are not the biography type, I think you will too. La Wayne finds a great balance between story telling and documentation. The dramatic story of how Adele rose to the height of fame and then lost her place in American pianistic history in post war Berlin is quite moving.
In the words of Emeril Lagasse, "Go down and get yourself 2 or 3 dozen copies!"