Artist Portrait: Reuel Meditz
This Artist Portrait comes to you in a bit of a different format. Because of Reuel's tour schedule, we were unable to video Skype our interview. So, we talked on the phone & emailed each other and the result is what you read here. Enjoy!
When I first listened to Musicophilia by Reuel Meditz, I was both intrigued and excited by his mix of electronics and acoustic piano. It conjured up memories of Lou Harrison and his group of experimental composers at San Jose State, except without the thumbtacks. The piece is dedicated to the victims of the 2011 Bastrop wildfire in Central Texas and the juxtaposition of eeriness and lyricism really got to me. Besides, anyone whose current show is called The League of Extraordinary Pianists has got my attention.

To take classical compositional techniques & forms and mix them with contemporary popular techniques (classical arpeggios, dubstep, plus drum & bass style production in this case) is very much out of the lines. In fact, I don't think this youthful artist has any lines. He freely associates between his classical conservatory background and the popular genres of his growing up.
Modclass is a term many of my fans began to use last year to describe the way I represent the modernization of classical music. Now in full use by a few other artists, this term defines "modern classical" as a mix of almost any genre with classical styling. Similar to classical fusion but more direct in nature, an example would be mixing dubstep beats with classical piano or combining house music with opera singers. The modclass sound is described as productions that emulate the structure of symphonies, sonatas, or other classical repertoire within the context of synths, drum loops, and instruments associated with electronic dance, hip-hop, rock, or any other style of music. I have been an early supporter of this niche sound by composing through a Modclass style since 2008.
Reuel has a well rounded performing life. He gives solo concerts as well as modclass shows. I asked him about his current shows and where he sees himself as a pianist.
My current shows range from solo piano all the way up to full electronic stage productions with DJs. I enjoy having the flexibility to customize and scale my performances correctly with any venue my team books. The solo piano shows adhere closely to my background as a classical pianist and focus heavily on solo piano repertoire both original and classical. My larger stage productions include DJs for the electronic elements and I also like to engage solo performers and programmed light shows to create a completely immersive experience.

I strive to live creatively in both the modern and classical worlds. First of all, I appreciate and respect classical pianists due to my strict classical upbringing focused on learning repertoire from all the eras and competing in multiple competitions including performances in Carnegie Hall and Italy. In my opinion musicians who are strictly classical performers have some of the most disciplined practice routines and often times don't receive enough appreciation or understanding from audiences for their dedication as perfectionists in the classical style.

In regards to being a modern pianist I have relied heavily on my classical training to help form the more inclusive musical style Mod-Class. I personally am not satisfied with limiting my learning to classical music. Because of this I create experimental compositions that fuse different styles with my knowledge of classical piano.

At first I had a struggle finding producers who understood where I wanted to go with Mod-class so I eventually taught myself how to use music production software like Ableton, Reason, Cubase to bring what I audibly imagined in my mind to life. Hearing modern music like dance, hip-hop, and rock and analyzing it with a classical mindset is a unique quality that I wish more classical musicians would allow themselves to enjoy and use for inspiration.
We talked a bit about creativity, arts for arts sake, and the fact that some pianists who become popular in different genres are criticized for giving in to the tastes of their commercial audiences.
I presume that classical musicians who feel this way aren't allowing themselves to view modern music as an opportunity to create exciting progress and new developments in classical music. There is a huge potential for keeping classical music relevant in today's society if we can see the possibilities of merging styles. The potential is growing even more now that electronic music is becoming popular since this broad genre in particular is easily mixed with classical styles. I wouldn't criticize pianists who are changing their style to entertain a modern audience but I would ask them to consider how they can create a combination of styles to give listeners who are under exposed to classical music a new experience that honors the past.

The classical purist vs. the freestyle pianist is a huge debate. You have to be thinking, "Why do you make music?" I'm adaptable. Pushing boundaries and experimenting excites me. When Debussy wrote impressionistic piano pieces and Prokofiev scored a movie for the first time that was change. At the same time you need to always have a respect and love for classical music the way it was 100 years ago. It is beautiful and it is worth listening to the way it is. The fact is that you can live in both worlds. I love to live in both worlds. 
Reuel has some definite advice for aspiring pianists. Have a good website and know your social media.
I think having a decent website and good social presence on Youtube, Twitter and Facebook is essential to all artists these days including classical and modern pianists. I recently wrote a website article about this important topic. And, talking about benefiting from online sites, I want to bring up Fametube, an amazing site I have seen helping talented musicians and artists of all styles get discovered. As one of their sponsored artists I support the ways they are creating avenues for online fans to discover quality musicians by only featuring talent related videos on their site. Unlike other video sites (like Youtube), Fametube has instrumental and opera categories for classical artists to submit their videos.
Since he is very active in teaching and helping others through teaching and benefit concerts. I asked Reuel about the special projects he is involved in right now.
I do give masterclasses and try to instruct students of all ages since it is all about inspiring a desire for learning regardless of age. Teaching people piano is like teaching them a new language. They benefit regardless of whether they become professional pianists. It doesn't matter so much what they do with what you teach them. It matters that you are really benefitting them. They learn from the process and goal setting and making the choice of what to do with their lives. Teaching is a giving, a serving vocation. When teaching becomes about the teacher instead of the student you have a problem.

I am also passionate about music education technology and created an iPhone learning app called Tune Hopper. This app game trains young players' ears to hear musical intervals, patterns, and chords. 
Geekdad /Wired.com said,"Playing music is exciting when you are being taught by "Greg" a green blob with legs and a flaming red mohawk." Here are some scenes from the game.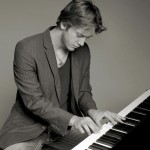 Reuel Meditz is a performer, composer, and teacher. He is an active member of MTNA. He studied with Victor Bunin at the Tchaikovsky Conservatory. He has scored both feature and short films. You can visit TuneHopper.com or search the name on the iTunes App Store to play it for free. Here's a gameplay video example.