Guest Post: Ramblings of an "Older" Pianist
I invited my friend and adult student Marsha Foresman to come and speak to my pre-college students about her piano journey and why it's important for them to keep playing piano no matter what their career path. Marsha got their complete and total attention as she talked and played the second movement of Beethoven's Sonata Op.2  No.1–they ate her up. It was such a great success that I asked her to write a guest post to share and here it is!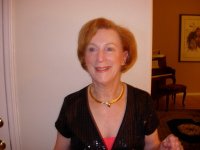 I took piano lessons from the time I could read until I graduated from high school.  My Mother told me I had a "gift" and reminded me everyday that it was my obligation to practice the piano.  I grumbled that the so-called "gift" was her ability to trot me out to play music for her friends; and they didn't even listen, they just kept on chatting while I played.
I left home for college and didn't touch a piano for 4 years.  I got married right out of college and my Mother-in-law gave me a piano which sat in my livingroom; only occasionally did I play it.  Every time my Mother would visit she would say to me, "I don't know why you have this piano when you never play it!"  Every time she would say that to me, another month would pass before I would play it…probably just to spite her.
Fast forward 35 years.  My Mother had died and my brother purchased a new piano for his enjoyment and to allow his children to take piano lessons.  I spent a wonderful Sunday afternoon playing the piano and realized that I truly missed making music.  I also realized that I no longer needed to argue with my Mother about practicing the piano.
The next week, I purchased a piano and signed up to take piano lessons.  I knew that I needed the discipline of a weekly lesson or that beautiful baby grand piano would just become a dust catcher.  At that time, I had a very stressful job and practicing the piano and playing beautiful music was a balm to my soul and a true stress reliever.
Fourteen years later, I still take piano lessons and still drag myself to the piano to practice.  The difference now is that once I sit down to play, I'm transformed to another place in space and time.  The music that I play feeds my soul, heals whatever is hurting me and adds to my enjoyment of life.
Yes, I have a gift, but that gift is something that I give to myself.  I can pretend that I'm a concert virtuoso or that I'm the piano-man in a neighborhood bar.  I can sing with Beethoven or fight with Bach, but always I come out the winner of the gift of music.
Sincerely yours, Marsha Foresman