Goal Oriented Practice by Gretchen Saathoff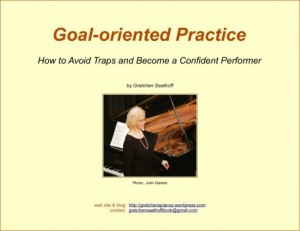 In her new E-book, Goal-Oriented Practice: How to Avoid Traps and Become a Confident Performer, Gretchen Saathoff has given us a thoughtful collection of practice ideas, tips, and insights in a clear, approachable, user friendly format. Her goal in creating this book was to help teachers and students alike make steady progress in learning music. I am most definitely a fan!
At  35 pages, the book is easy to read but not simplistic or watered down. It is straightforward and friendly–never overwhelming or preachy. From the first time you open this book, no matter what your level, you will be able to improve how you practice and learn. Gretchen's approach to practicing goes beyond pure repetition to address boring, mindless playing. From eliminating distractions, to preparing a score, to activating your SELF, to assembling a piece, the more you refer to these pages, the more depth will be added to your time spent at the piano.
There were several highlights for me. The discussion of the little coach on your shoulder (AKA Jimminy Cricket) reminded me of a very funny passage in Anne Lamott's book on writing, Bird by Bird in which she quotes Mel Brooks: Listen to your broccoli, and your broccoli will tell you how to eat it. The fact that that someone else advocates workarounds to poor pianistic layouts gives me great satisfaction. I have received many "lobsters crawling out of the ears" looks from colleagues at my foldouts, glued in additions, white-outs, and covered up sections. When I have advised students to do the same, their faces often said it all- Yeah, right. I paid $$$ for this score and you want me to deface it? I am vindicated.
I like the fact that thinking and imagining away from the piano is stressed throughout this volume. One of my colleagues once told a wayward student that in order to be a pianist you have to want to play and think about the piano all the time. I also love the examples from musicians such as Glenn Gould, Irma Vallecillo, Mistislav Rostropovich, John Cage, Frederica Von Stade, and Gretchen herself which bring life to the concepts and advice in each section.
Goal Oriented Practice does indeed illuminate the traps, joys, and tricks to successful music practicing and learning–with discipline, confidence, and with kindness. In addition to the E-book, there is a new print edition available.
Happy Practicing Everyone!
P.S. I am also an admirer of Gretchen's sign off, Happy Practicing, because that is how I too sign all my missives to students–I'm pretty sure Gretchen knew this.