My Brain is Full
Arizona State Music Teachers Association is holding it's 81st Annual Conference this weekend in Tucson.  So many old friends and some new ones! So many great new ideas and old ones stated in fresh ways!
First of all I hit the exhibits where I discovered the coolest action figures in the world.  Bach, Mozart, and Beethoven as you have never ever seen them, complete with fun facts, famous quotes, and downloadable fold up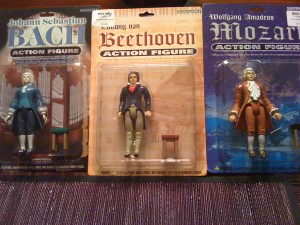 instruments. My favorite quote is on the Mozart package- Our riches, being in our brains, die with us… Unless of course someone chops off our head, in which case, we won't need them anyway.
I also visited with Dr Armen Shaomian from YoungArts which recognizes and  supports talented 17-18 year old young Americans in visual, literary, and performing arts. They are the sole nominating agency for the Presidential Scholars in the Arts. HBO ran an entire series of Masterclasses featuring some of these young presidential scholars last spring.
I was also impressed by Piano Power Cards. These flash cards are collector card size and style. The 20 card categories include the usual basic notes and terms plus such categories as piano & parts, form & style, period & composers, and articulation & technique. These flash cards are definitely not uni-taskers. They come with lots of creative suggestions for individual and group activities.
The conference opened with Dr. Radmilla Stojanovic-Kiriluk speaking on The Grammar of Phrasing. She encouraged us to put on our 3D glasses and notice the total texture and how notes, motives, and harmonies pop out or fall back. Later, Dr Lisa Zdechlik brought us back to texture with her session, Texture and Pedaling in the Chopin Nocturnes. Using original graphs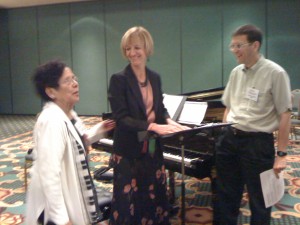 she showed us how Chopin's pedaling is directly connected to creating the actual texture he wanted and therefore to the interpretation.
One of the biggest challenges we face as music teachers is fostering rhythmic acuity. Through listening activities during their session on musical time concepts, Drs. Dave and Tina Walton asked us to identify primary and subdivided rhythms, Then, they showed us how contemporary composers often change the value of the beat note mid-piece, creating a situation where the perceived beat is not the number written in the key signature.
We were encouraged to help our students develop a sense of larger and larger beats, combining measures into groups in order to phrase beautifully and have logical rubato, ritardandos, and accelerandos. Drs. Walton stressed that each beat has width and that we create the effects of holding, laying, or pulling back or pushing ahead by changing where in the beat width we play.
We used the metronome to experiment with spacing beats within a larger beat of two measures. We were also given some great suggestions for students who have trouble feeling and subdividing the beat. Individual students feel rhythm in different parts of their bodies and we should first discover where they feel it and then choose from foot tapping, swaying, patting , clapping, etc. The most challenging students will be those who respond to rhythm visually rather than physically.
Ever wonder how and why different versions of pop, sacred, classical, and folk tunes are leveled in the way that they are? Big Note, 5 Finger, Easy Piano, Intermediate, EarlyAdvanced, plus Levelmarkings such as 1, 2, 3, 4, create a minefield for teachers and students as they choose appropriate books. Composer/Arranger Tom Gerou from Alfred showed us the process by which tunes are arranged for different leveling categories. The fullest sounding easy arrangements are likely to be the five finger because the duet part fills in the harmonies and creates a more full texture.
When we see a Five Finger edition it doesn't necessarily mean that the piece will stay only within a single penta-scale. The arranger tries to keep the intent of the composer and stay within the level of the pianist they are writing for. Not an easy task.
Arrangers simplify rhythmic writing and time signatures, redo voicings, edit out extraneous material, and then must submit their arrangement to the original composer for approval before it can be published. Tom told us about how he had once changed measures of single eighth notes with eighth rests between them to staccato quarter notes. The composer complained that this wasn't correct- he had not written staccato quarters and Tom had to explain that for a young student the staccato notes would give the same sound but be much easier to understand.
The above were just some of the available sessions at the conference. The organizing committee, Dr Kiyono Bernier, Valerie Merrell, and Helen Jones did a wonderful job of providing truly quality sessions to satisfy the needs of a diverse group of music teachers.